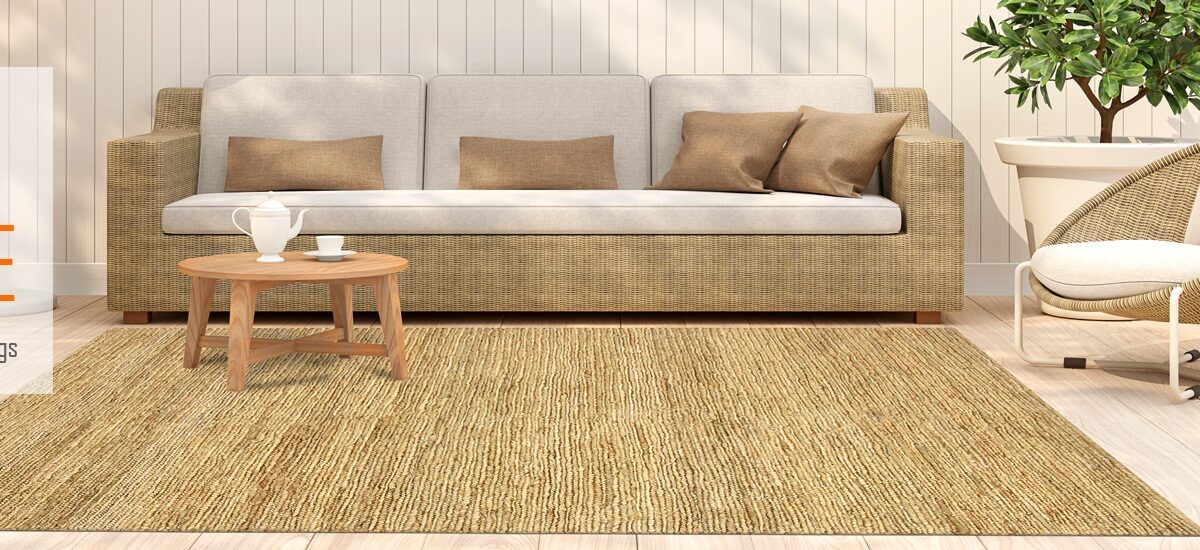 Why Should You Shop Jute Rugs?
Thinking of home renovation? Looking for something boho or rustic theme? If yes, jute rug is the choice. It's a hot trend in the interior designing community. People love to have jute rugs at their place because of its natural and comfy touch.
Keep reading this blog to explore the astounding perks of jute rugs.
What is Jute?
Jute is a kind of grass found in Asia that's woven into a rug. As it's obtained from grass so it's natural material and vegetable fiber. This plant is generally found in the Asian subcontinent. The fiber is durable and used for various things where rug weaving is a common practice across the globe.
It is also known as Golden Fiber as it's a central woody part of the plant stalk. Thus, it consists of cellulose and lignin. To craft it into a fiber, their stems are cut down and put deliberately into a running water for a few weeks. It makes the stripping part as the gummy gets softened. Then these
split fibers are then processed to transform them into a jute yarn and the rug woven using jute yarn is called Jute rug.
Now, know the benefits of having jute rugs at home:
#1. Sustainability
As you have read above that jute carpet is natural material and it's the best choice if you want to be eco-friendly. It is renewable, biodegradable, plus carbon-dioxide neutral. Furthermore, it is an especially abundant fiber.
It's a rain-fed crop that needs less fertilizer and pesticides as compared to cotton. Because it is biodegradable it is used for materials such as netting around sapling roots to prevent soil erosion through new plant growth. If your New Year's was going green, Jute carpet flooring is an excellent choice.
#2. Price
Jute fiber is less expensive than other carpet types such as sisal or seagrass. This is due to its abundance and fast growth period. Unlike some common perceptions of eco-friendly flooring, jute is indeed a very budget-friendly choice.
#3. Appearance
Jute is loved for its natural beauty. The appearance and carpeting is similar to that of other natural fiber carpets. These tend to be in tan, beige, or golden brown color, and the fibers are often woven in neutral patterns. The look is adaptable to most interior design aesthetics, from the modern to the traditional room theme.
#4. Care & Maintenance
Jute demand less maintenance. The natural fibres know well to cover dirt and dust, simple vacuuming is enough to keep the rugs look clean and beautiful. But always keep in mind that jute should never come in the water contact, it will get rot and stain. So, always avoid shampoo or steam cleaning.
Bring home the best quality jute rugs today
As, now you know the jute rugs and its benefits well, so bring it home today from your nearby stores. To learn about jute rugs and natural fibre more, just get in touch with the jute stores in India today. They will guide you well and provide you the best jute rugs for your home.
Go Ahead & Buy Jute Rugs Online